In 1989, there were 585 coffeehouses in America. Over the past 30 years, that number has boiled over 30,000 (of which roughly 14,600 are Starbucks). Today, 4 in 5 adults regularly drink the dark and unctuous Kool-Aid that has transformed from a cheap diner staple worth 25 cents into a ritualistic experience that the average customer buys for $4.05.[1]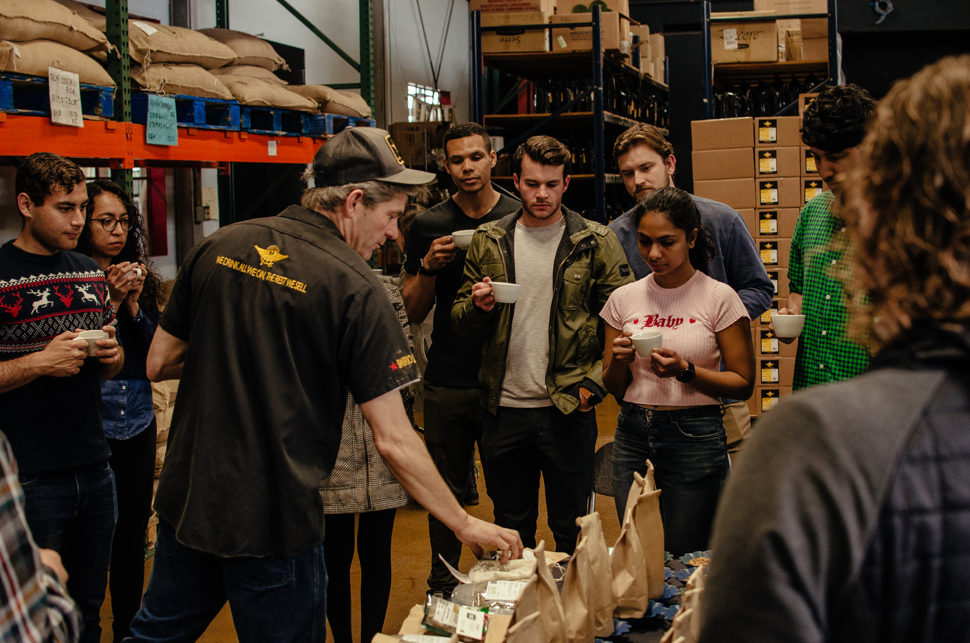 I was initially drawn to Café Moto by their chocolatey and creamy cold brew, but I fell in love when I learned they have been running their operations on solar power for the past 10 years. I reached out to Café Moto's sales rep to arrange a coffee tasting and tour of their roasting facilities for UC San Diego's Energy Club. After hearing about Energy Club's tour, Torrey Lee, the industrious owner and head roaster of Café Moto, thought it would be best to come in on his day off to give the tour himself.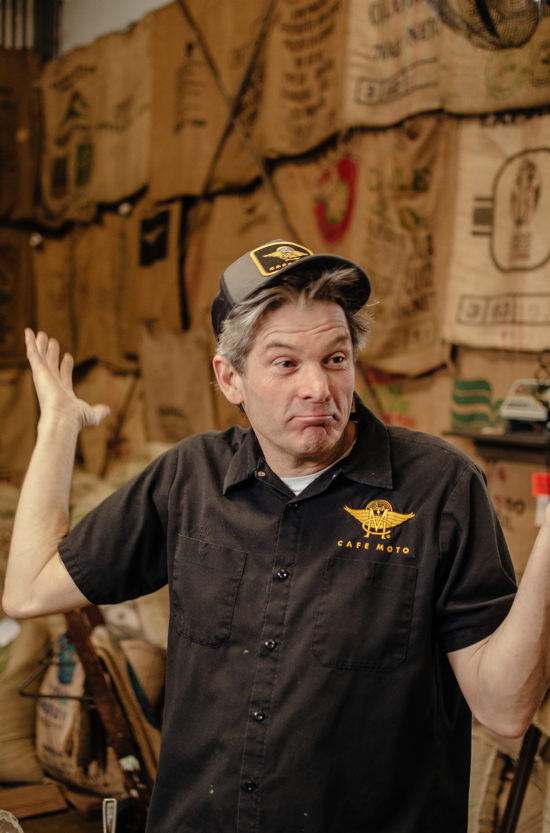 Torrey started building Café Moto's foundations in downtown San Diego on 12th and J Street around the same time when there were just 585 coffeehouses in America. For the past 30 years he has been roasting Café Moto's beans[2]; for the past 20 years he has been sourcing his beans from Fair Trade certified, women-run Co-Ops from around the world[3]; for the past 10 years he has been powering his new operations in Barrio Logan from the solar panels on Café Moto's roof. More recently, to reduce waste, Café Moto has started donating their coffee bean sacks to the San Diego Zoo to be turned into elephant toys and composting all their used coffee grounds.
Steeped in his craft for 3 decades, Torrey emanates an incandescent passion for coffee along with an engineer's attention to detail that makes the average coffee snob look like a real nooblet (e.g. me). During our tour, he spent 2.5 hours with 25 graduate students patiently and expertly answering every last question we were curious about. As we walked through Café Moto's roasting facilities, we felt and smelled raw green coffee beans transform into their final full-city form, sampled and compared the flavor profiles of 4 different coffees (from Guatemala, Nicaragua, Ethiopia, and Moto's Super G blend), and learned about how Café Moto keeps striving to be more green and sustainable.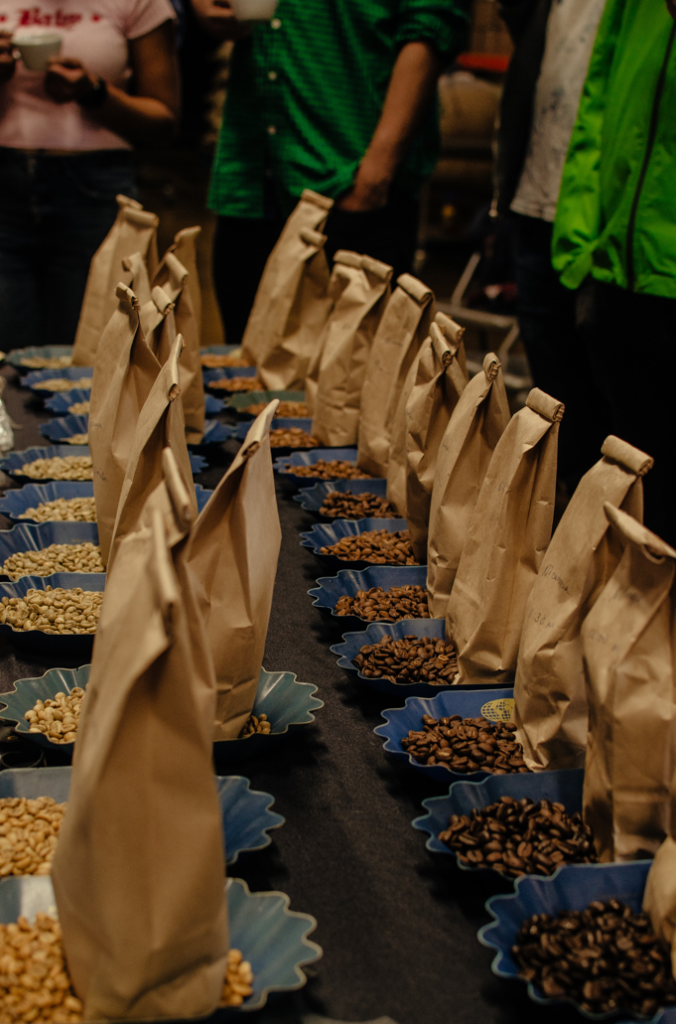 About a decade ago, Torrey had 127 solar panels installed, which output around 30 kilowatts during the day to power all the lights, electronics, and water heaters for Café Moto. Torrey has been purchasing electricity from the solar operator for below market rates for years, but a few months ago he bought all the panels outright for $15,000 from the operator to essentially run his own Café Moto microgrid – he's still looking into installing batteries for energy storage after the solar company said it didn't make economic sense. The coffee roaster is the only part of the factory that runs on natural gas, as it hails from 1930 and must reliably run on cloudy and rainy San Diego days, like when Energy Club visited.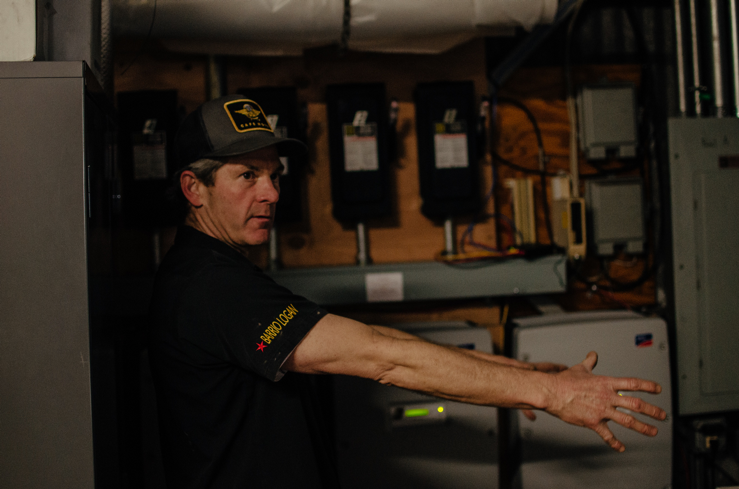 Torrey is constantly tweaking and tinkering with his coffee roasting business. Every day he tastes the coffee to adjust the roast time and temperature to extract more flavor; every year he renews his commitment to the co-op farms across the world that supply Café Moto with fresh beans and visits them as often as he can; every decade Café Moto has planted its craft of coffee deeper into San Diego, offering classes for local restaurants to learn how to properly prepare coffee and repairing espresso machines around the city.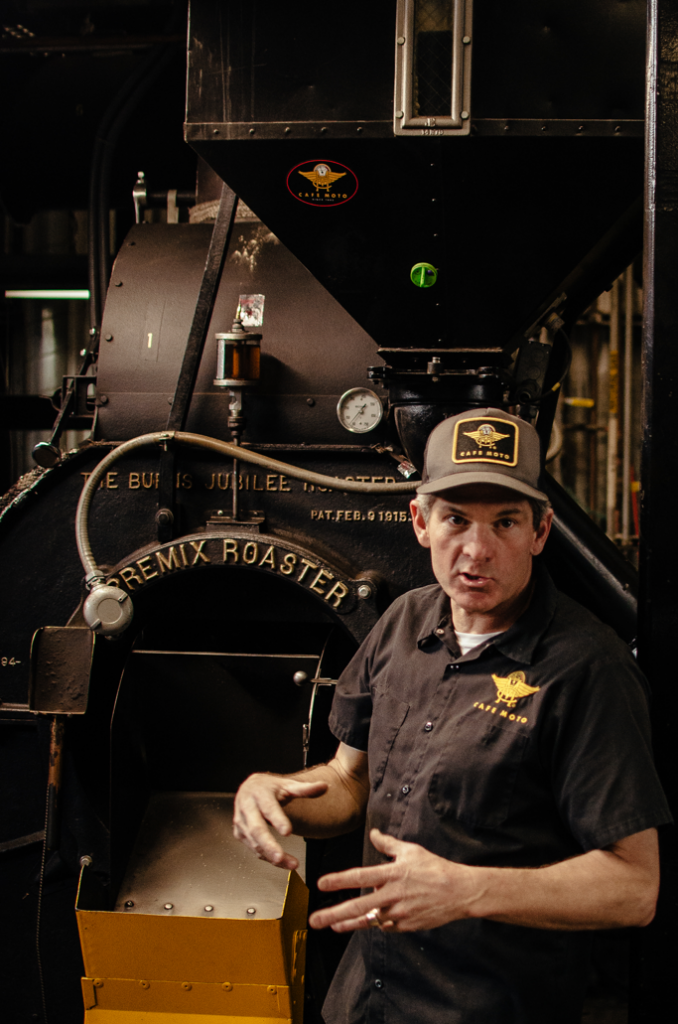 Over the past 30 years, while Howard Schultz has gone on a conquest for global domination through marketing and real estate genius[4], Torrey Lee has gradually grown Café Moto into a San Diego institution that runs on sunlight and shares the highest quality coffee beans from around the world with the city. While seeking the global maximum entices entrepreneurs with exponential growth, the local maximum offers a deeper bond with the craft and the community where it originates. Together with his wife, brother, sister in law, brother in law, and 39 other people, Torrey Lee extracts the best flavors from coffee to share with San Diego and inspires and educates local businesses to operate with as much care for their product and planet as Café Moto.

Footnotes:

---
[1] From Starbucked: "What you're paying for at a Starbucks or a local cafe isn't the coffee. Take the oft-mentioned $4 cappuccino, for example. According to statistics from the Specialty Coffee Association of America, only 5% of that price ($0.20) is the cost of roasted coffee (including cooking, packaging, and shipping). In reality, a nickel covers the farmer's take for that cappuccino; that's less than the cost of the cup, sleeve, and lid (7 cents). At Starbucks, you're paying for dairy products (10% or 40 cents), labor and overhead (71% or $2.84), and profit (11% or 44 cents)."
[2] Even before 1990, Torrey's family began roasting coffee in the 1960's along with their friend Jerry Baldwin, the original Starbucks owner. Baldwin learned the coffee roasting craft from Alfred Peet, who is credited with starting the specialty coffee revolution. Baldwin would go on to start Starbucks in 1971, while Torrey's father in law would go on to start the San Diego gem, Pannikin in 1969 – the La Jolla location is right next door to my favorite San Diego bookstore, and I'm pretty bummed that Pannikin is only in Terminal 2 of the airport since I normally fly Southwest in Terminal 1.
[3] Coffee farmers are beholden to the global price of coffee beans, which can oscillate by 300% based on random events, like a frost in Brazil. When an entire year of work spent cultivating coffee can evaporate away based on the weather in another country, farmers have an incentive to grow more profitable plants, drugs in particular (e.g. qat in Yemen and coca plants for cocaine in Nicaragua, Honduras, and Guatemala are grown after burning away forests and coffee plantations). Fair Trade allows the farmers to lock in a profitable price for their coffee beans with coffee buyers. While the transformative effects of Fair Trade on a farmer's life are widely circulated, the quantitative results reflect the need for further improvements. From a study of 465 Fair Trade coffee farmers in 7 countries: "Around 80 percent of the world's coffee is produced by 17.7 million small-scale coffee farmers. And while the coffee industry aims to be a sustainability leader, the fact is that many farmers continue to struggle to make ends meet and support their families." The study found that on average, just 50% of a farmer's annual income derives from coffee production, and only Indonesian coffee farmers earned a living household income from coffee production alone.
[4] Howard Schultz extracted the coffee culture of Seattle and mixed it with Milan's to become a billionaire. He would go on to buy the Seattle Supersonics only to sell them out to Oklahoma City investors when the team was no longer profitable. He is currently running to become President of the United States as an Independent.