By: Hayley Hirsh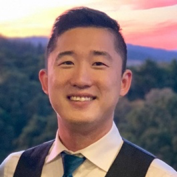 Ziying graduated from UCSD in 2016 with a PhD in Chemical Engineering from Professor Shirley Meng's research group. His PhD work focused on solid state thin film batteries, and he became an expert on characterizing battery materials with Focused ion beam (FIB) and Scanning tunneling electron microscopy and Electron Energy Loss Spectroscopy (STEM/EELS). These skills have helped him significantly in his current job!
When Ziying started looking for a job he considered both the semiconductor and energy storage industries. His skills could suit either and there are a lot of semiconductor companies in the US and here in California. On the other hand, a lot of the big energy storage players are outside the US in China, Korea, and Japan. However, the battery field is rapidly growing in the US and specifically in California.
Ziying joined Maxwell Technologies in San Diego as a scientist to help develop a new process to manufacture electrodes. Maxwell Technologies was subsequently acquired by Tesla for $218 million. Now at Tesla's new office in San Diego, Ziying collaborates with Tesla employees around North America. Since joining Tesla, Ziying was pleasantly surprised by the number of alumni from Professor Meng's group he now works with. Previous graduate students and post docs from Professor Meng's group currently work in Tesla's San Francisco Bay Area's office and Canada's office. Ziying continues to focus on materials processing and characterization.
His average workday starts by checking and responding to emails from Tesla clients and coworkers from around the country. After that, his workday can vary between planning experiments, performing the experiments, analyzing that data, and then using that data to plan new experiments to– all skills he sharpened during his PhD. There are also exciting opportunities for Ziying to learn a whole new set of skills.
The most satisfying part of Ziying's job is seeing the technology he has been working on being applied in the real world. He is very excited by the potential of the impact of applying the science he has been cultivating for years. The most challenging part of Ziying's job is the fast nature of work at Tesla. Work moves very quickly and requires fast adjustments to changes which can be quite stressful. Like graduate school, work can require long hours and weekends. Unlike graduate school, the deadlines are for large scale, real products and can affect work for many people upstream and downstream.
Ziying has felt very prepared for his job at Maxwell/Tesla. From his PhD, Ziying had specialized knowledge in certain aspects of batteries such as synthesis of cathodes and interface characterization as well as general knowledge of battery components. At Tesla, Ziying has enjoyed learning more about electrolytes from specialists at the company. He also has learned more about analyzing electrochemical tests and battery safety. Ziying has taken his PhD training out into the real world to build a valuable part for the future of energy storage.